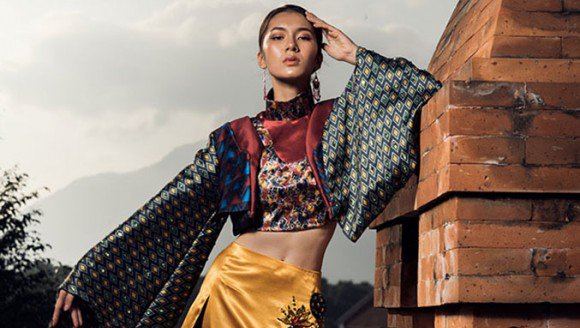 Graduate Fashion Week "Unconventional 4.0" is about a group of innovative designers who dare to push their core values and passions, through provoking designs that both empower and innovate Vietnamese Fashion industry.
Through these collections, "Unconventional 4.0" has proven to break through society's boundaries, stepping out from tradition and creating cutting edge innovative fashion, explored through exhibitions, fashion film and catwalk show.
Following are some designs from the Graduate Fashion Week.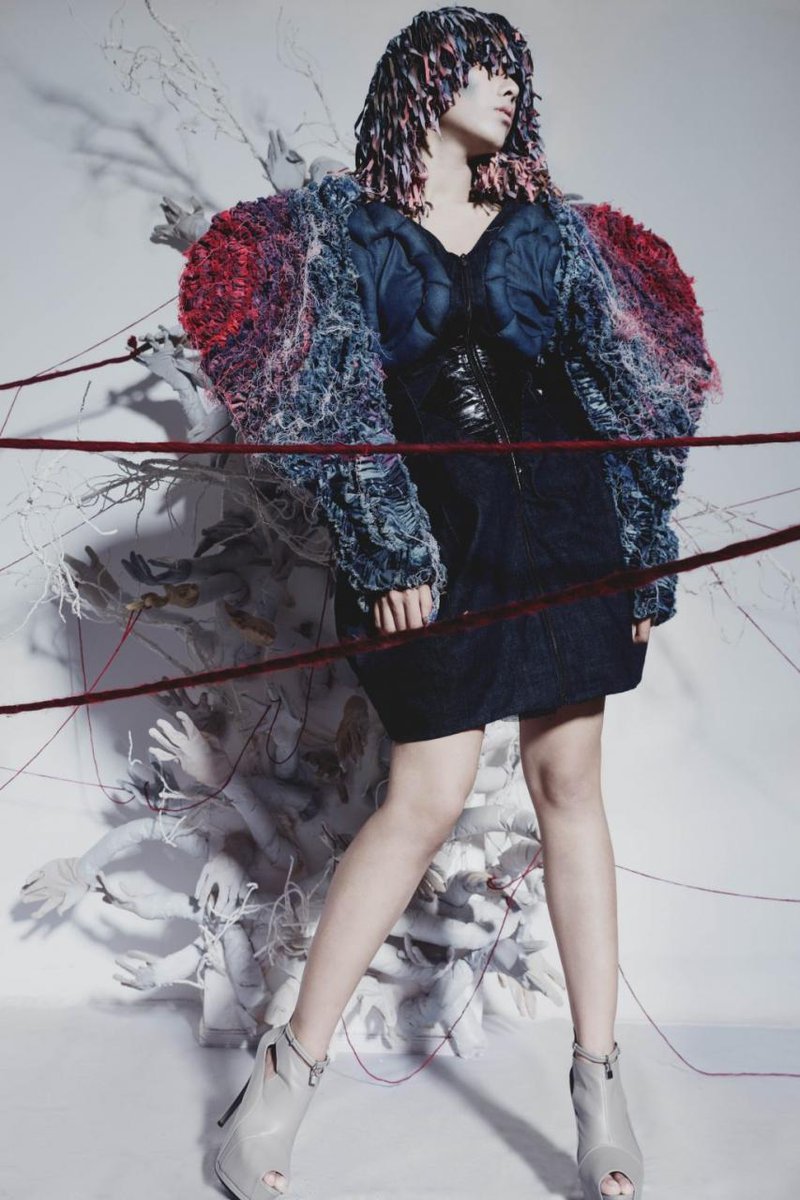 The collection "Alice in Grotesque Land" by Hoang Hong Hai.
The collection is inspired by the world from the perspectives of abused children and the story "Alice in Wonderland". The color range combines strong and bold colors like black, white, red and blue with the chosen fabrics to be denim, leather, suede and organza enhance the textiles of bleaching and shredding… and the technique of breaking basic structure of fabrics to create new and unique shapes.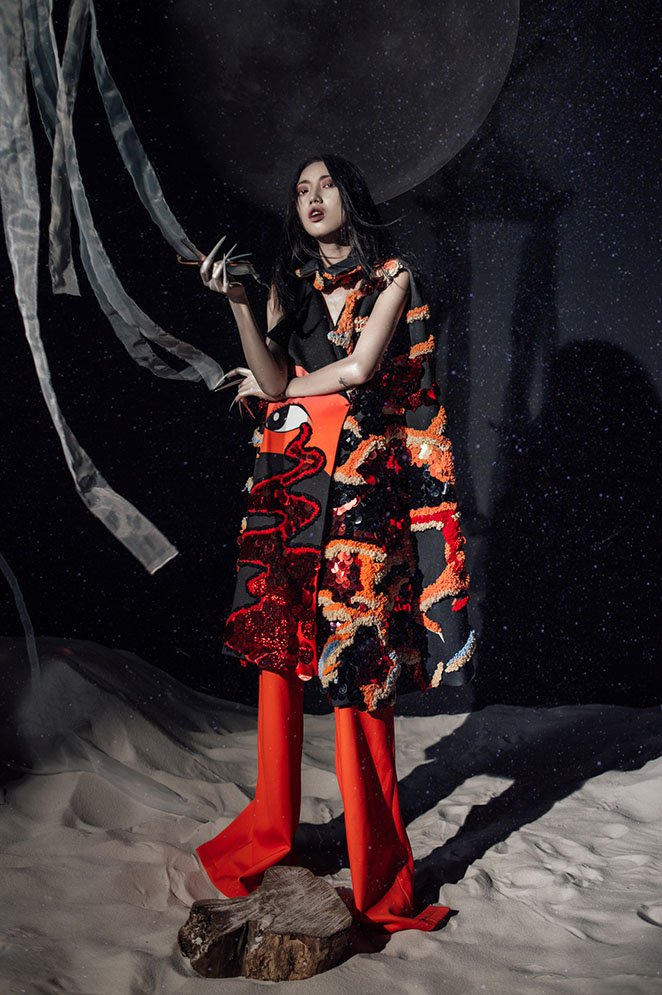 There is another design collection that takes inspiration from the "Night parade of one hundred demons" - a famous Japanese painting. In this collection, designer Nguyen Thuy Linh has done a great job in applying the combination of embroidery, beading and folding techniques. The silhouettes came from Japanese tradition costumes like Yukata and Kimono which have perfectly collaborated with the prominent features of the collections, inspired by demon's horns and claws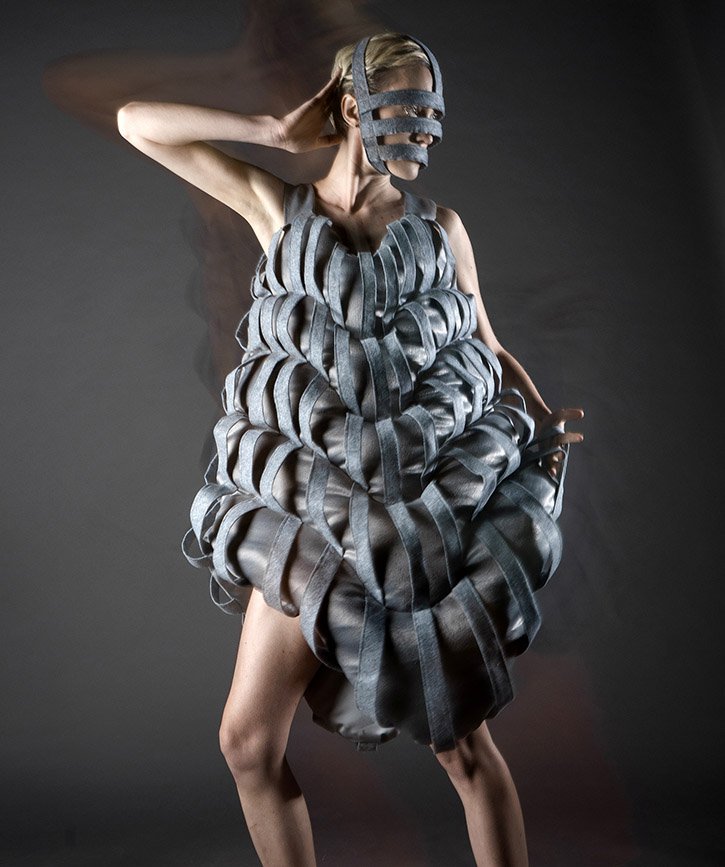 Being inspired from architecture is the unique feature in the collection "Allure Formation" of designer Tran Thi Anh Phuong. The color pallet grey silver highlights the edgy shapes and special forms of the garments. Designer has aimed towards Vietnamese women who are open-minded, unique, distinguished and have diverse fashion style.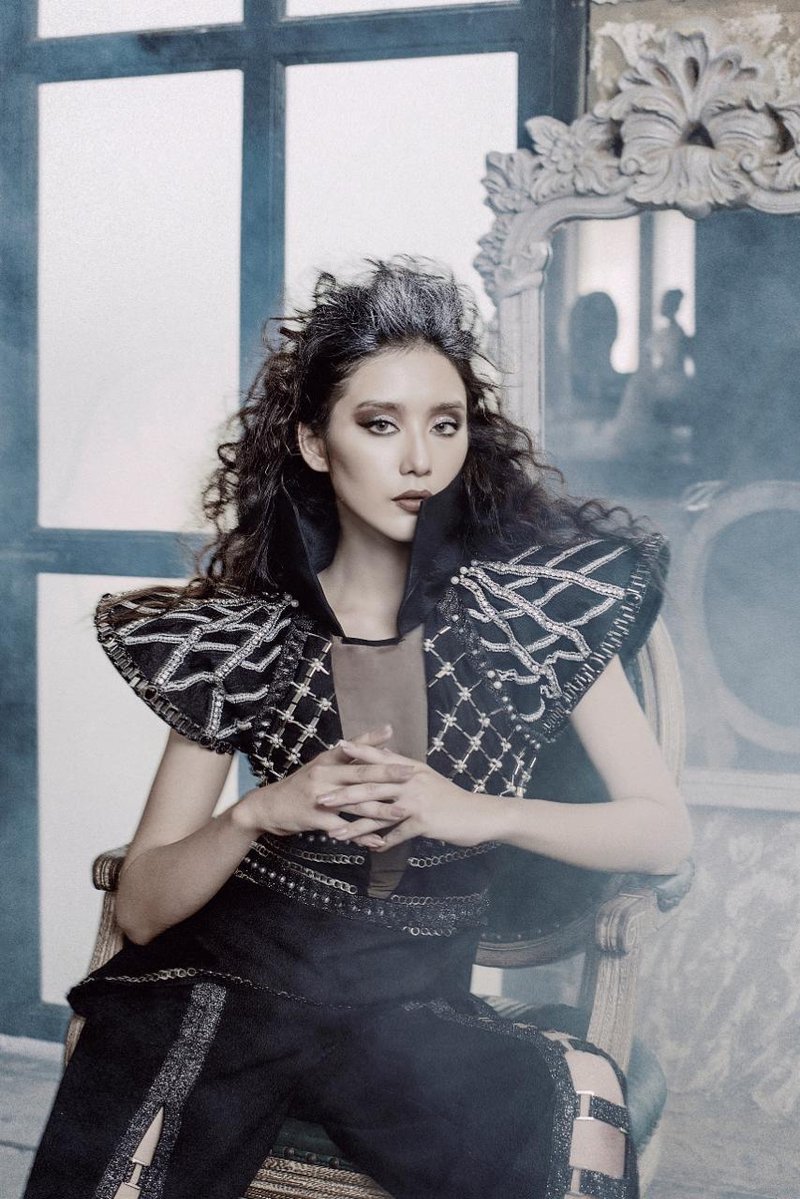 Designer Nguyen Vu Quynh Phuong took inspiration from the ancient Gothic architecture to create collection "Enigma". Different techniques have been applied such as beading, laser cutting, embroidery and fringing with its inspired features from the window shapes of the curvilinear lines of the dome. Thus, Enigma enhances art-loving women who have luxurious style and strong personality and fond of new fashion trend.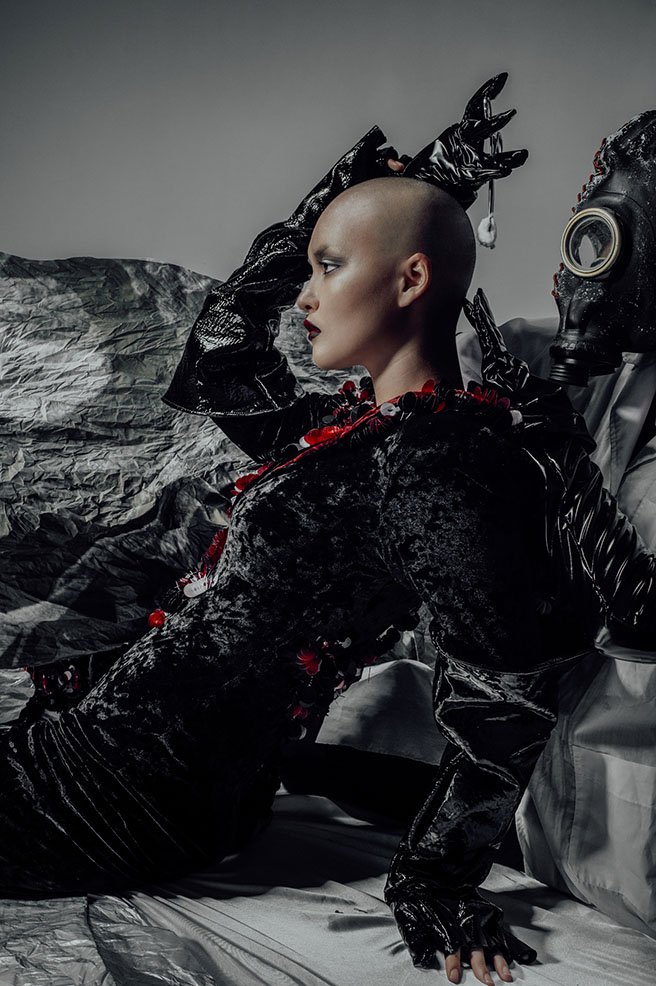 The inspiration behind S.O.S Collection of Designer Nguyen Thuy Linh (Blue) came from infections, which has been studied under a microscope to explore the organisms and cells. Thuy Linh would like to send a message through her fashion collection about worldwide spreading of natural disaster, as well as diseases and disorders. The designs with cut-out areas and unconventionally bold silhouettes in black color remind people of the ulcerated effects.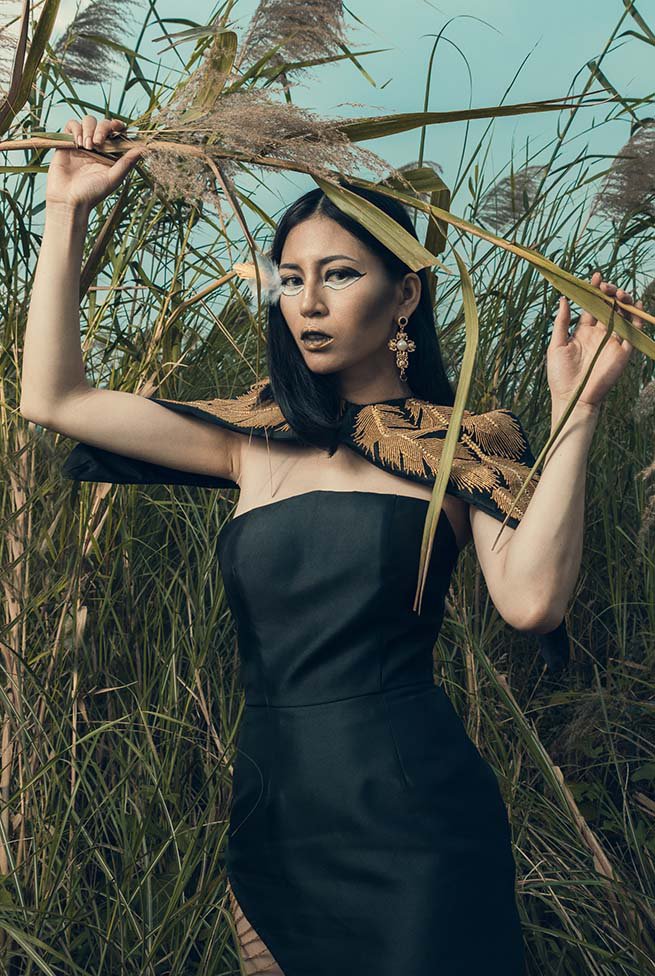 This collection is inspired by the "Wings of Griffin" in the Ancient Egyptian myth. Griffin is a legendary creature, with top half of an eagle and the bottom half of a lion. Designer Luu Thi Lan hopes that collection "The Wing of Gryphon" with the charming and luxurious style will be welcomed by business women, models and singers...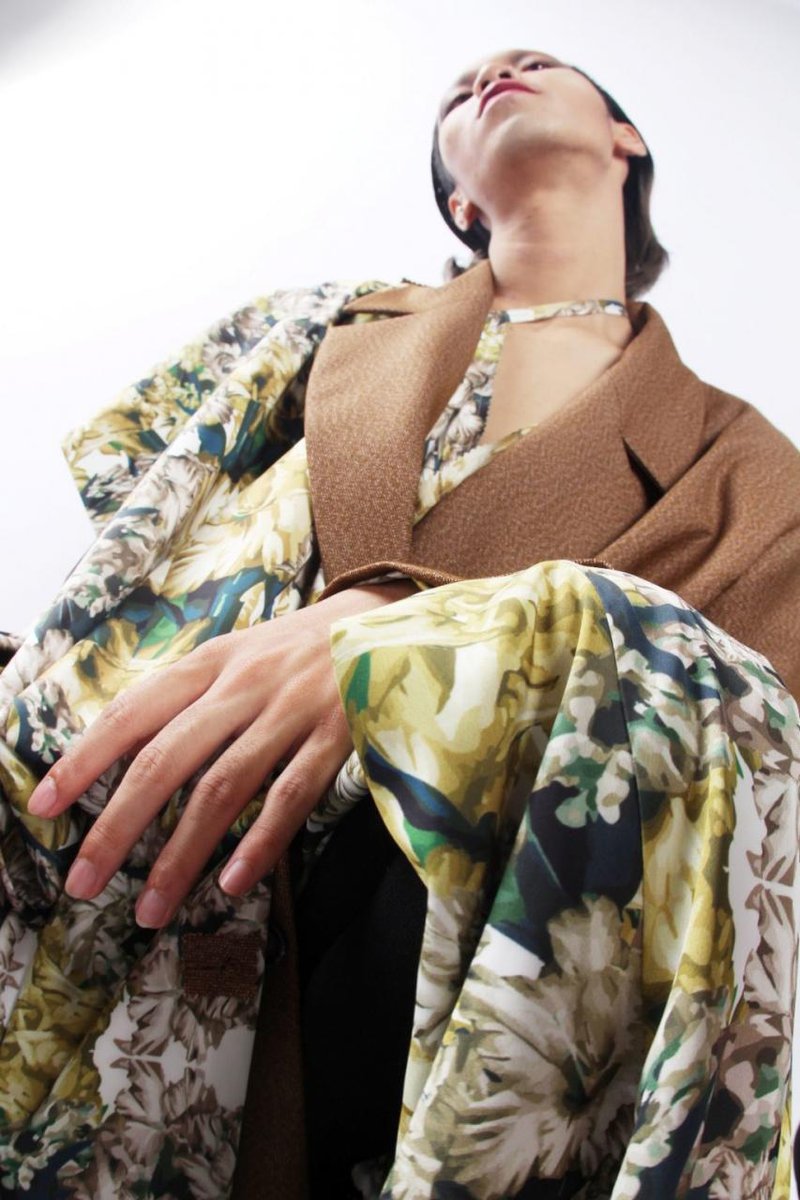 The designer Bui Nhat Nam overthrows the stereotypical structure in fashion to create the collection "Nostalgia" and tell the story about Vietnamese lifestyles throughout times. The color palette of navy-mustard and yellow-beige reminisce a nostalgic Vietnamese picture and the textiles focus on digital printing on silk all together creating a very unique and special collection.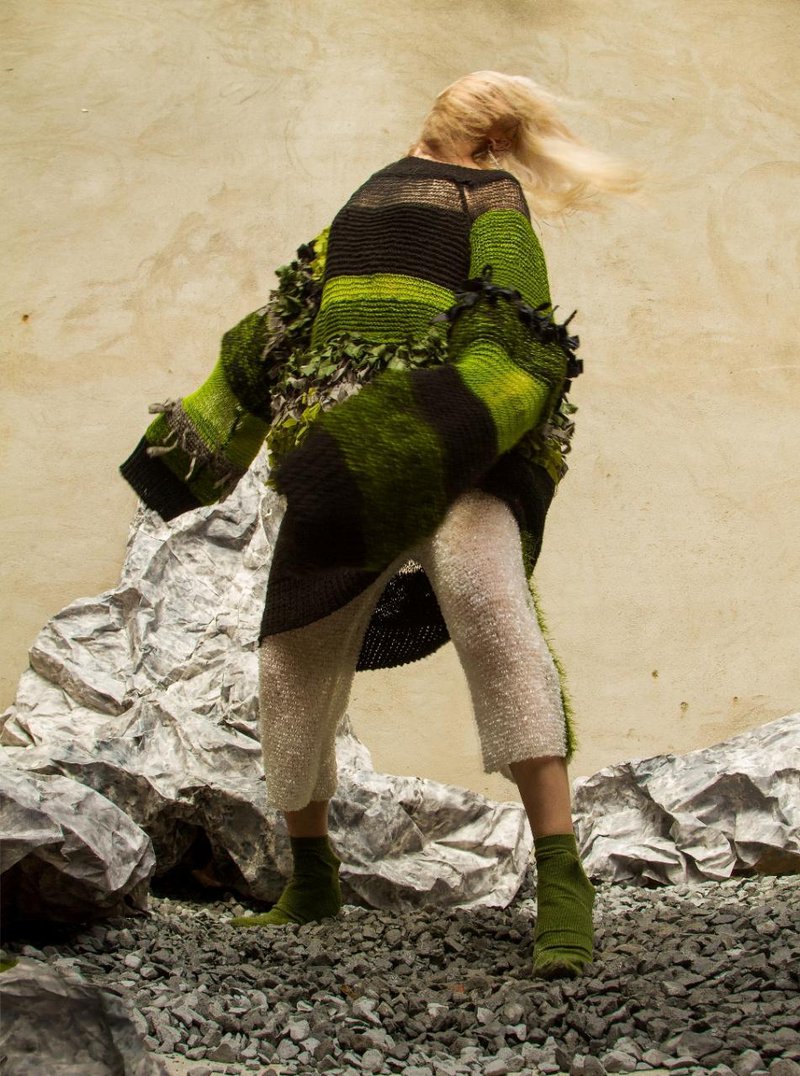 Vigorous vitality of plants under the harsh living conditions of nature has become the inspiration for designer Vo Thanh Thuy to create her "Vitality" collection. "Vitality" is a street wear collection taking inspiration from the 80's Hip-hop trend mixed with Sport Chic style. Loose knits and slashing techniques with an array of layers have been used to represent the images of plants in their natural conditions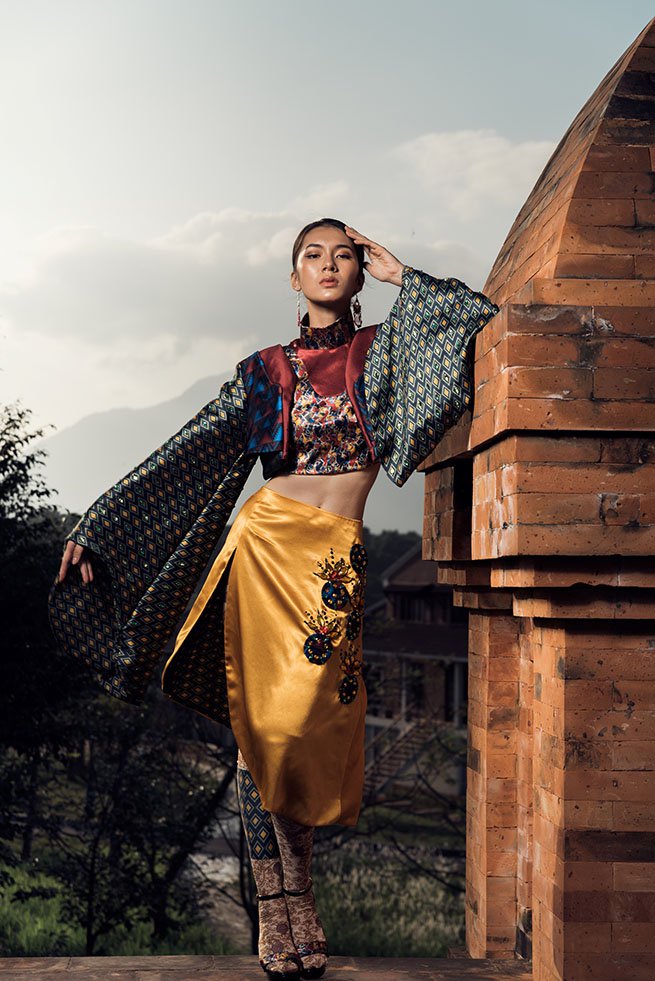 Designer Nguyen Hai Van has incorporated the Indian culture, art and architecture into her collection "Mandala", through techniques of digital printing and weaving textiles on silk and taffeta fabrics, creating the luxuriousness and elegance for this collection. Some recognition such as bold cutting and slashing has made the designs become more youthful, elegant and sexy.
The Graduate Fashion Week is an important event to mark the study outcome of the students majoring in Fashion & Textiles at London College for Design and Fashion - Hanoi. Coming to this event, you will have the chance to visit Talk Shows, workshops from British specialists, to be able to discuss with professional designers, to network with fashion and lifestyle bloggers to develop online fashion retailers, to see and purchase all eco-friendly fashion products…