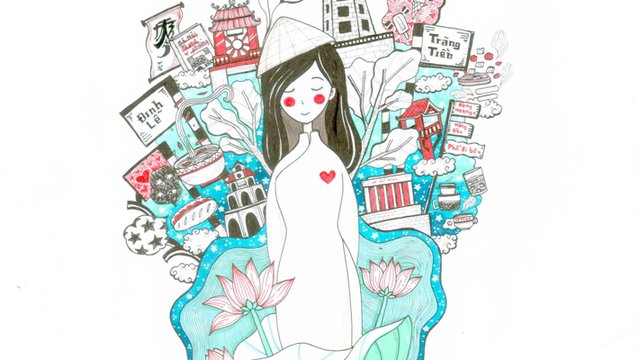 Is it possible to recognize your hometown based on looking at just one symbol? That is the question for you if you want to win the prize for Vietnam – Where I Live 2018. Show your talent in design to potentially become a student in one of the best creative design schools in Hanoi.
Your homeland is being "wrapped up" through only one symbol?
Design Contest "Vietnam – Where I Live" is organized by Vietnamese Students Newspaper in collaboration with London College for Design and Fashion (LCDF – Hanoi). The competition was founded to discover and foster young talent who are passionate about creative design and want to develop their careers in this field.
It can be easy and also difficult to describe your homeland in just one symbol. Yet it will be very simple if you are able to find your inspiration and ideas toward this. Let's take a look at the works of your "seniors" who have presented their excellent ideas through their submissions in the past.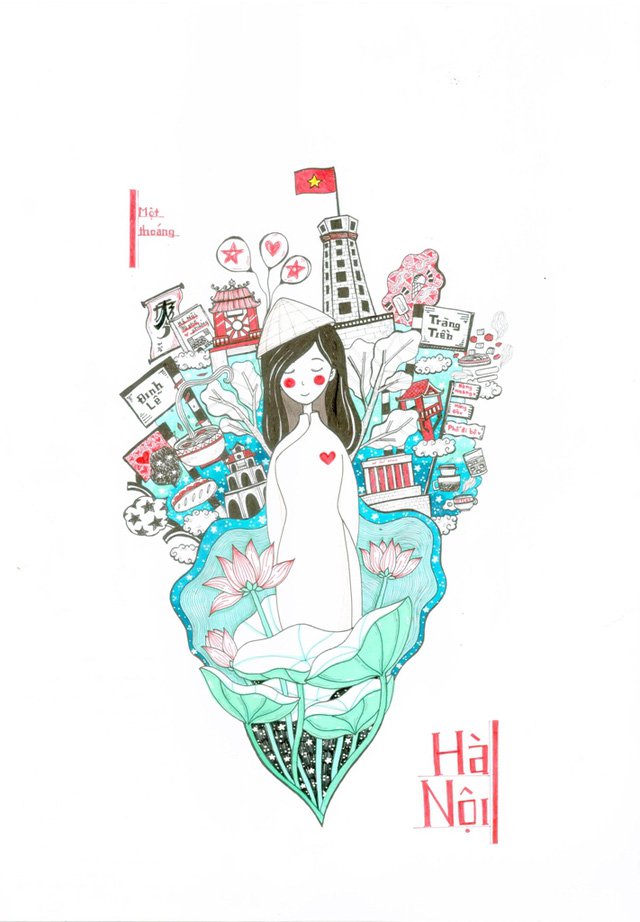 The symbols of Hanoi, found in the picture above, are some of the pop-up memories coming to the minds of people when referring to Hanoi and its thousand-year history. The ancient capital is located in the centre of a peaceful river – the heart of the nation converging all the beautiful landmarks and regional cuisines of Trang An. There are two main colors being used are blue – the color of peace, a city of peace and red – the color of passion, of the deep feelings that each person owns for Hanoi – Vietnam.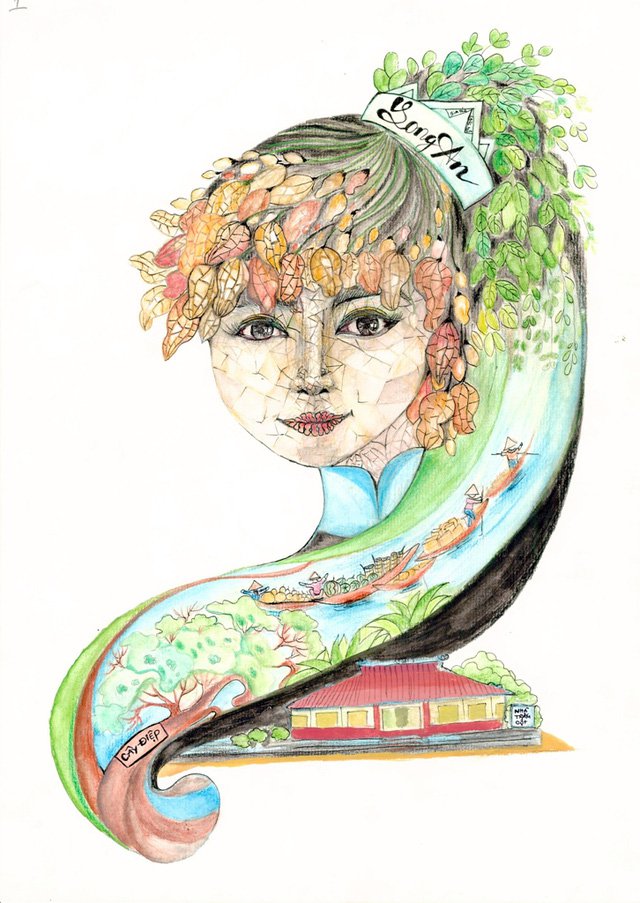 Long An – Award for Best Idea Prize in Vietnam – Where I Live 2017 Contest
To Tran Minh Pha (1999) - the contestant coming from Long An, the symbol of his hometown is the image of a mother. The work impressed the judges by its striking style and won him the award for Best Idea Prize in 2017.
The artist wanted to express the love he had for his mother – who has suffered days and nights, through sunny as well as rainy weather to nourish his growing. Man has many places to explore but there is only one home to return – a place with his gentle mother.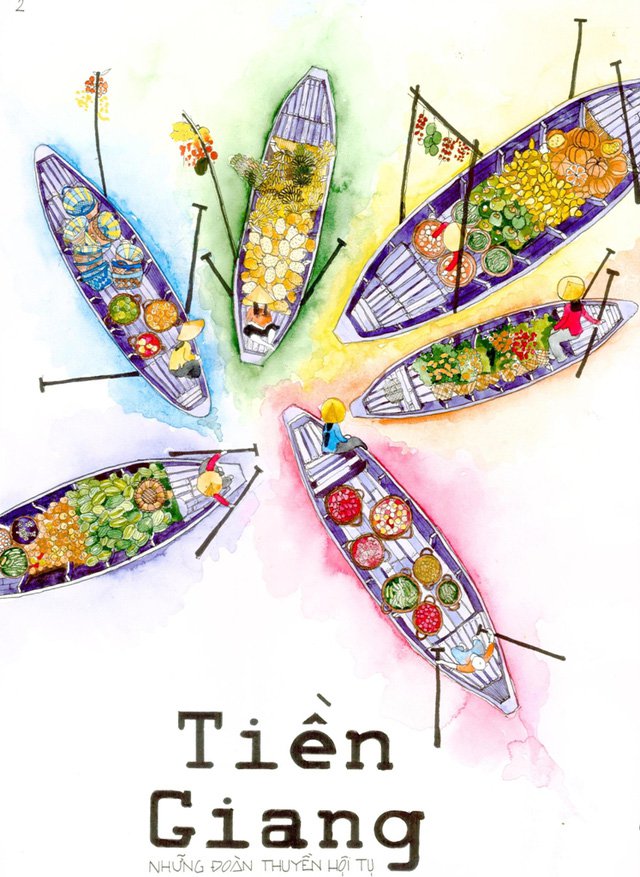 Tien Giang by Dinh Hoang Tam – Third Prize of Vietnam – Where I Live 2017
The symbol of homeland in the soul of Dinh Hoang Tam (1995) is the colorful beauty of the floating market in Cai Be, Tien Giang.
Throughout those works above, you now might feel it is not really difficult to design your symbol of hometown and express them onto your work right? It is what you find the closest and feel most familiar with, the people or the scenes that have had bold imprints on your mind.
How to make your work impressive
Succeeding through two seasons that have been celebrated and resonated in the art-loving youth community, Vietnam – Where I Live has become one of the most anticipated design contests not only across Vietnam, but also foreign countries. In 2016, the contest received more than 500 entries, making it difficult for the judges to decide the most talented contestant.
Regarding this tough competitive atmosphere, young contestants are also trying their best in effectively performing their works of art. Reading the contest guidelines is not enough at this point; let's also hear some of the sharing thoughts from last season's stars!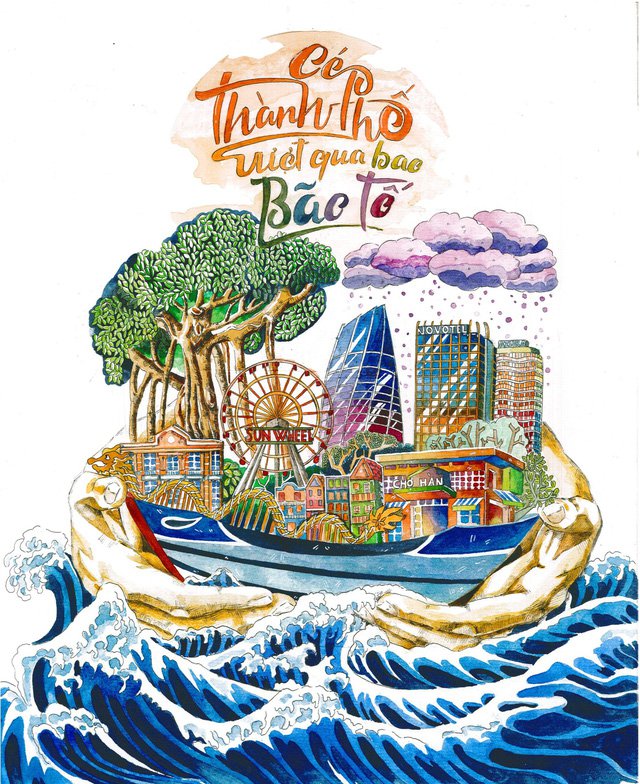 Hurricanes became the symbol of homeland in the mind of the runner-up in 2016 contest
Nguyen Minh Hoang (Runner-up of 2016 contest) revealed his secret of winning the prize in Vietnam – Where I Live: "Simple, just be confident and follow your passion until the end. In each design, it is not necessary to have a lot of details; it is the ideas which are most important".
Vu Anh Thu (Champion of 2017 contest) shared her thoughts: "The contest is very suitable for young people who have never studied about design as well as using their hand-drawing skills to express their ideas. You just need to confidently show what you have, as I was not specialized in design but I chose to bravely participate and yet the opportunity came to me unexpectedly afterward".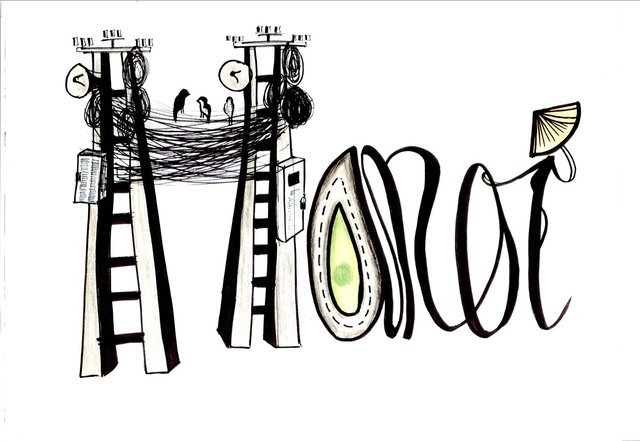 There are many distinctive features that symbolize Hanoi through a work of art from 2016 contest
Another great suggestion that you should refer to when participating the contest is:  According to Mr. Stephen Burdett – Director of Studies (London College for Design and Fashion) and Co-founder of this contest: "Through this contest, we want to change the opinion about design in Vietnam. The core of design is not only skills of using design tools but also the generation of ideas that is the most important factor".
Please do not forget the deadline of entry for Vietnam – Where I Live 2017 contest is 31st December 2017. This is not only an opportunity for you to show your talent but also lead you the way to actualize your dream of following creative design at British Design Schools. The opportunity is in your hands; let's take a look at the overview of the contest here: http://www.designstudies.vn/cuoc-thi-viet-nam-noi-toi-song/
Theo Kenh14.vn