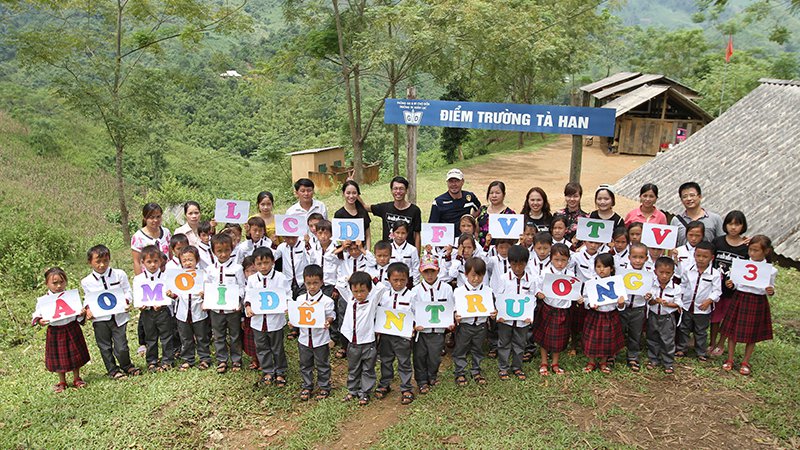 On 31/08/2015, on the occasion of greeting a new academic year 2015-2016, teachers and students of the London College for Design and Fashion - Hanoi (LCDF) implemented the program "New clothes for a new academic year" at 8 villages belonging to Bang Phuc and Xuan Lac in Cho Don district, Bac Kan province.
They are 48 students in Phieng Phung School , 64 students in Xuan Lac, 35 students in Ban Tun, 25 students in Ban Eng, 56 students in Ban Ho, 38 students in Pu Lung, 114 students in Na Ban and 49 students in Ta Han . This is the third continuous year that the program has been implemented by teachers and students of LCDF Hanoi, designing and producing uniforms for poor highland children to go to school and have a better life. Together with other volunteers and groups, this program helps with difficulties that the local schools have and encourages children to go to school and study. The charity program was implemented with cooperation of the program "Fashion and Life" – VTV3 and Dmax Team Club.
"New clothes for a new academic year" is a community program with the aim of giving new uniforms designed by LCDF students to poor children which are suitable for highland life and reflecting traditional local culture. In addition to new uniforms, primary students at these schools also received donations from our students, parents and sponsors, including shoes, food and stationery such as notebooks, books, pens and boards. This year the program has been organized with a total expense of 100 million VND.
Over the last 3 years, "New clothes for a new academic year" has developed from helping only one school, Ta Han, where 65 students being given uniforms, to eight schools with 421 students in 2015.