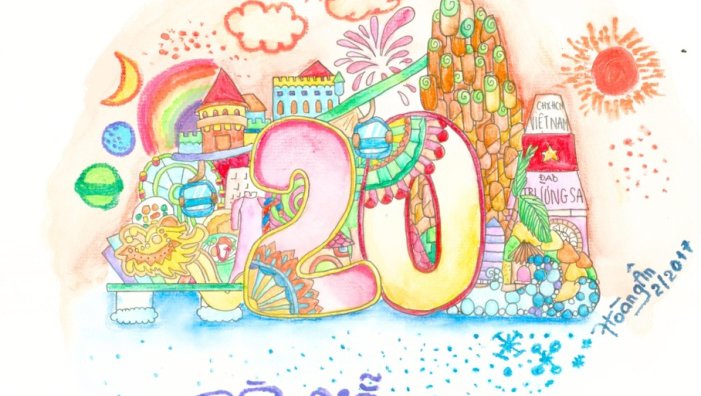 A lovely picture of Ha Long shows a dragon embracing green mountains and blue clouds, the picture of Kien Giang is so cool with various tiny icons… these are impressive designs submitted to "Vietnam – where I live" design contest.
Prizes are hundreds of thousands of vietnamdong of scholarships to study at an international prestigious college. The competition attracts lots of symbolic designs about Ha Noi, Sai Gon, Ha Long, Da Nang, Kien Giang, etc. The following drawings will display the wide variety of designs. The requirement of the contest is not difficult. Do you like drawing, do you have imagination and do you love your hometown? Take your pencil and start drawing! The contest will accept your work up to 18
th
March, 2017.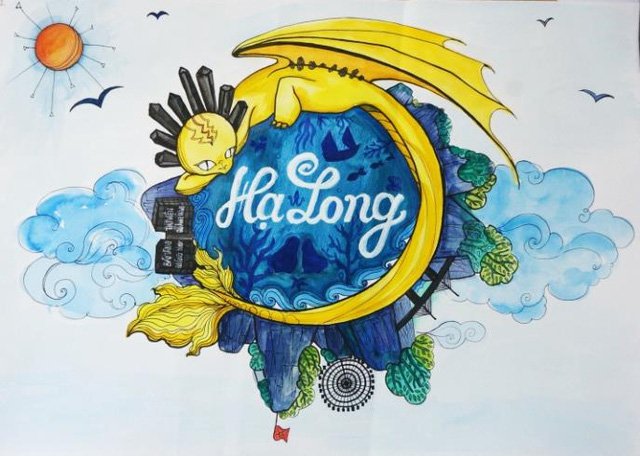 This design of Ha Long is made by a girl living in Korea, Nguyen Thi Thanh Tam (b.1993). It is her memory about the harmonization of blue sea, clouds, mountains and her belief in the city and the legend "'Where the dragon descends into the sea".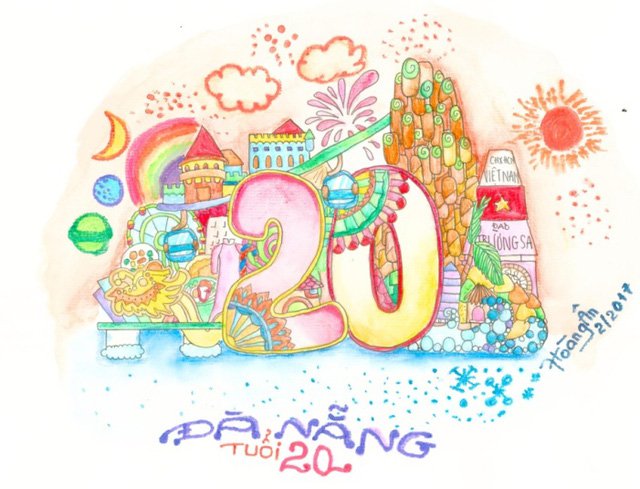 This is another design about beach cites. Pham Hoang An (b.2000) is inspired by the connection between Da Nang's landscapes such as rivers, mountains and sea – the unique landscapes makes this city different from others in Vietnam. There are famous places such as Ba Na hill, Dragon bridge, Truong Sa island, Ngu Hanh Son but it is also the ordinary things such as Quang noodles, banh beo, etc which remind us of the uniqueness of Da Nang.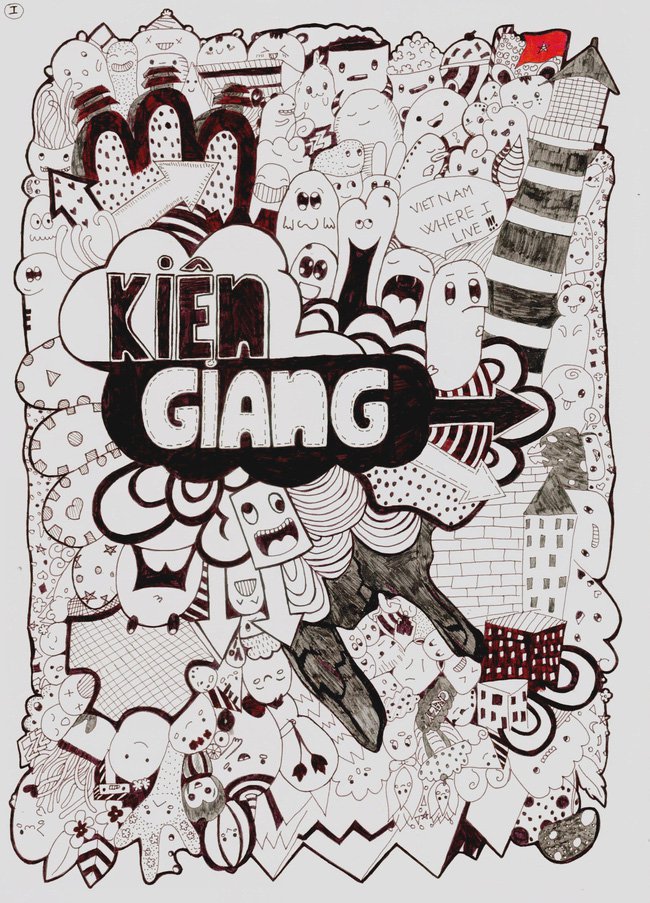 Design of Do Thi Gioi (b.1994) from Kien Giang.
Her picture "Symbol – where I live" shows famous images of her hometown such as Phu Tu island, Tam Quan gate and the lighthouse. The rapid increase of population, a special feature of Kien Giang, is clearly drawn.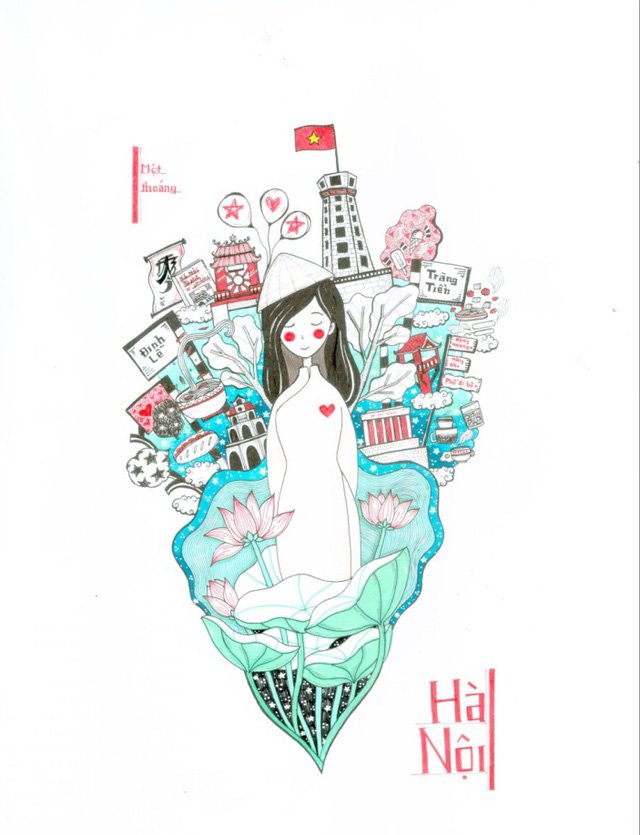 A Ha Noi girl, Vu Thi Thanh Thu (b.1997) submits a design full of familiar images when remembering Ha Noi. Trang Tien street, Dinh Le, Hang Ngang, Hang Dao, morning coffee, bread or hot pho, The ancient Temple of Literature is drawn next to Turtle Tower and other streets which inspire us in Hanoi. Thanh Thu uses two main colors, blue as a symbol of a peaceful city and red as the enthusiasm of youth.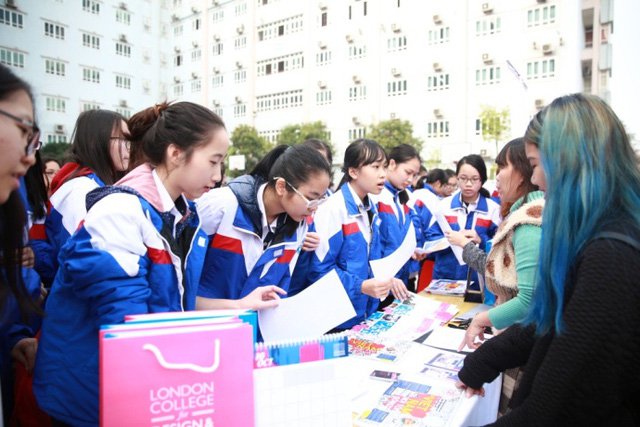 Students of Chu Van An high school are really interested in the contest because prizes are scholarships at a UK prestigious design college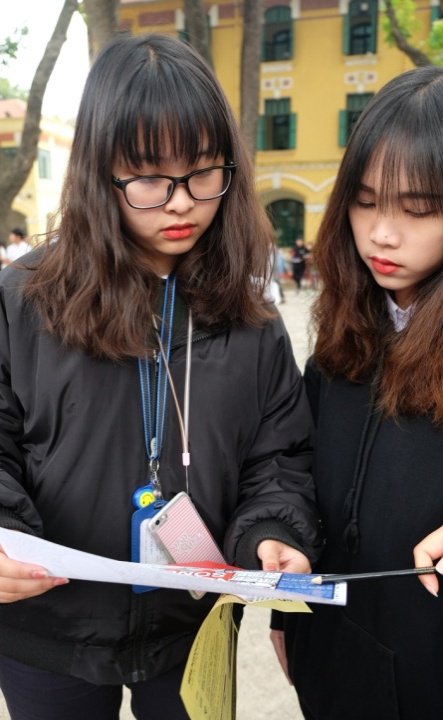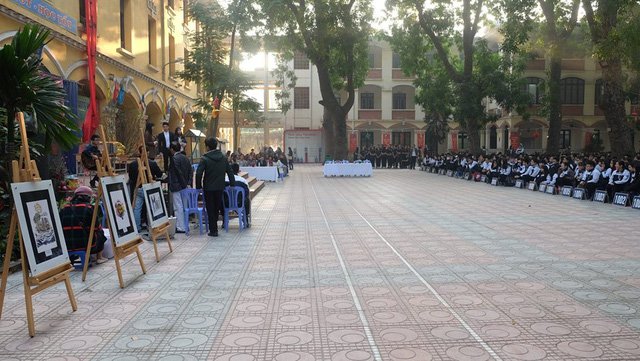 The contest organizers display previous impressive designs as an inspiration for young students who love design.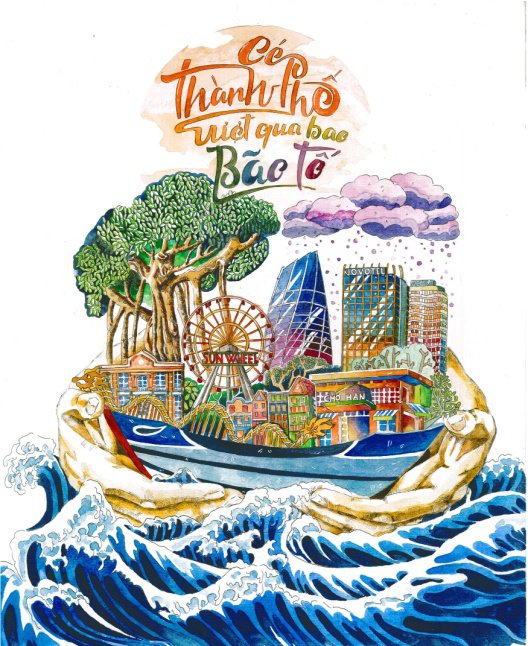 This design about Da Nang city won second prize in the previous contest.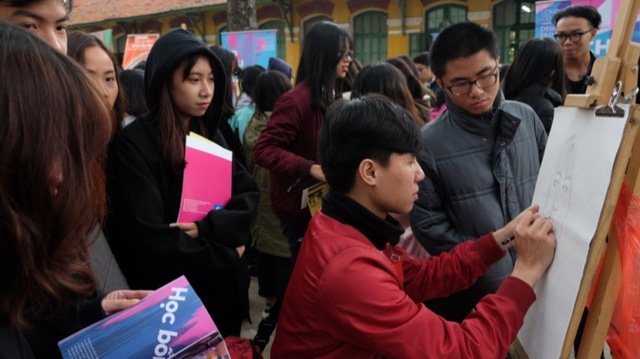 Minh Hoang – designer of the picture "A city overcomes the storm" will be a partner of competitors in the second contest and help to answer their questions. Here he is drawing portraits for future designers. Ms.Ha Thi Hang – Managing Director of London College for Design and Fashion – Hanoi, a representative for the contest said: "We hope this contest will inspire the young people's patriotism and show their love for their city in their art designs. In future, these designs can become symbols for each city. Besides, this is an opportunity to win a scholarship and join a UK creative learning environment."
Click here for further information of the contest: 
http://designstudies.vn/cuoc-thi-viet-nam-noi-toi-song/
Fanpage:
http://www.facebook.com/Vietnamnoitoisong
Hotline: 04.37199706.
Theo Kenh14.vn